Welcome to Week Four / Day Nine and our final sketch reveal for the month of January. We're also introducing the final member of the Sketches in Thyme Design Team - Candace Oliarny. Today, Candace will be sharing her take on sketch #454 by our very own talented designer Laura Rumble.
We are extremely excited to have Candace join us and share her wonderful talent with us. Here is a little about her.
I live in Boise, Idaho with my husband, son and daughter. I have been paper crafting for over 18 years now. I started out scrapbooking my wedding album then doing my 2 children's albums. I enjoy making layouts and documenting events, milestones and everything! Sketches make layouts fun and easy and I'm excited to join the design team at Sketches in Thyme!
Maven Candace created this layout with pictures of the daily shenanigans of their Elf on the Shelf, Stealth, and his reindeer friend Buddy. What a great event to document, and this sketch is definitely perfect for it!
Great take on the sketch Candace!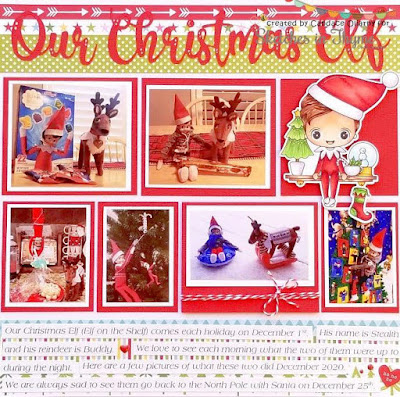 Welcome to the Team Candace!
Our Prize this month of a
$10 Gift Certificate
to A Cherry on Top has been generously
the chance to be a GUEST DESIGNER for the month of February!
*your choice of course!
We hope you'll play along with us

using the sketch provided.
Please make sure

you upload your creation to the Inlinkz
tab so we can come visit and leave comments!
The deadline for uploading your creations is
January 31st, 2021
.
Again - please be sure to upload your layouts
prior to that date for your chance to win!